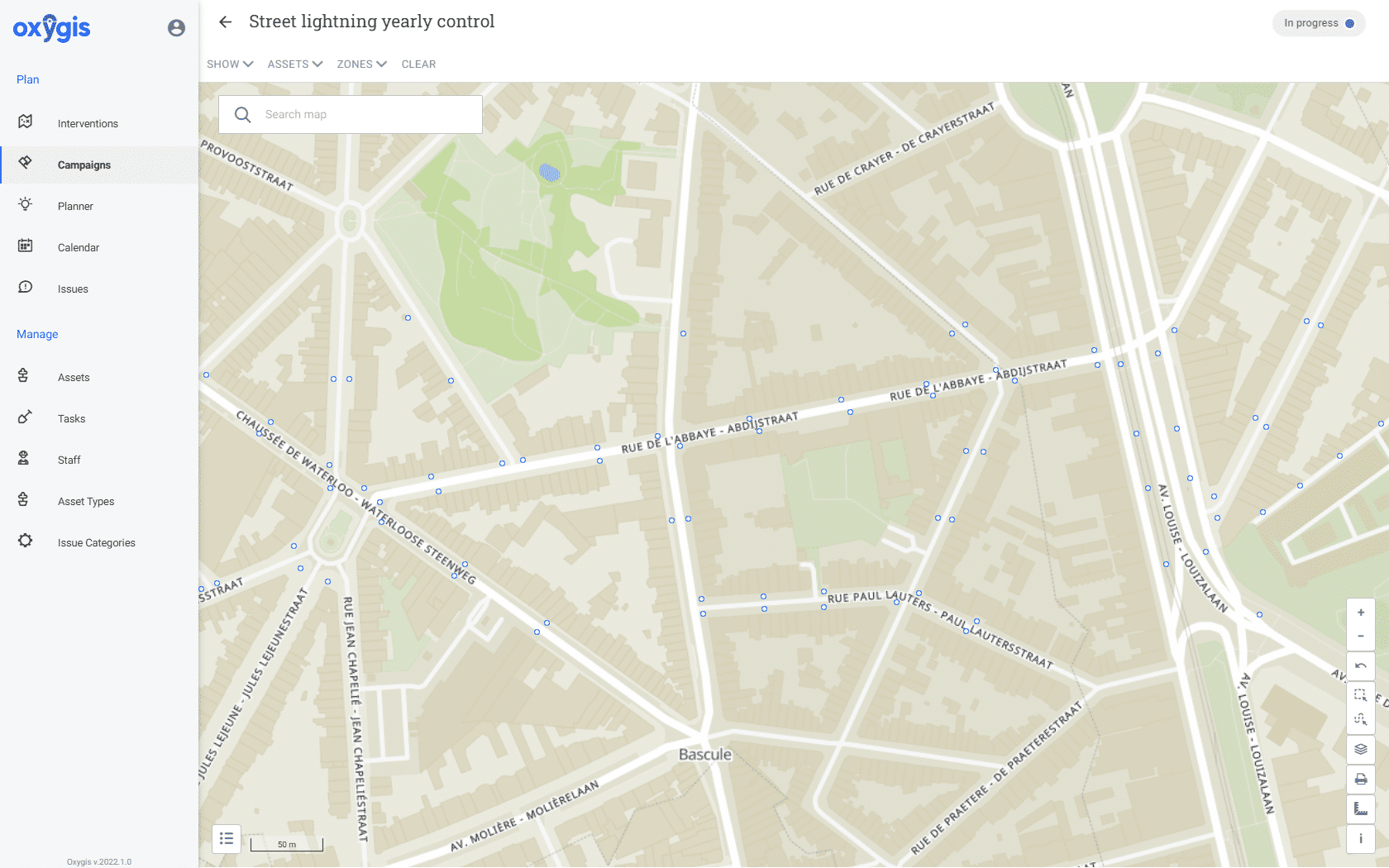 The new version of Oxygis 2022.1 is now in production ! New functionalities, improvements … the evolutions are important and will allow users to reinforce their experience of asset management and equipment maintenance.
Current web and mobile application clients will be migrated and supported by Oxygis teams over the coming weeks.


Campaign management
Oxygis now offers a campaign management module : the aim of this module is to create, in a few clicks, a set of interventions related to the same task on a series of selected assets and to follow their resolution step by step. This allows users to simplify the implementation and resolution of large-scale actions – recurring or not.
On the administrator's side, they can view the scope, manage the steps (e.g., adding or removing assets even after the project has been launched), and see the status of the project on a day-to-day basis (rather than waiting for the final closure).
On the field side, this offers the possibility of planning work on a job-by-job basis or globally at the campaign level : if the latter option is chosen, the mobile agent will be able to assess the next actions to be carried out and their priority of execution.


Creating an intervention by drawing while remaining linked to an asset
Sometimes, it may be necessary for a user to draw an intervention linked to an asset without sharing its shape : for example, to indicate the part of a line or a surface that is really concerned. Oxygis therefore now allows the creation of an intervention using a free drawing without a link to an asset, a link to an asset without a drawing, or a link to an asset and a free drawing.


Searching in a custom attribute of the choice list type
The various custom fields in assets and interventions, when presented as pick-lists, now offer a more efficient and accurate search engine than before.


Handling of drop-down lists containing large amounts of data
Rather than manually creating custom fields in the form of a large list of choices, Oxygis offers its users the ability to automatically integrate their choice catalogue : it can be loaded at once or even connected to an external data source, making it easier to set up and use.


Alphabetical sorting of asset and intervention custom fields in list mode
In list mode, Oxygis users can now sort, in alphabetical order or the reverse, all assets or interventions displayed on the screen according to the value of their custom fields.


Management of photos or documents attached to anomalies
In the web, Oxygis now allows the attachment, modification and deletion of photos and documents to anomalies.


One-click selection of filtered assets in list mode
In list mode, Oxygis users can now select or deselect all of the assets displayed on the screen to facilitate exports.


Filtering of interventions on task
Oxygis mobile now allows you to filter interventions based on the tasks associated with them.


Display of GPS coordinates on an item's record (asset, anomaly and intervention)
The detail sheets of the various Oxygis elements (asset, anomaly, intervention) now display their GPS coordinates (in x,y decimal format).


Forced use of the offline version of a base map
Oxygis allows you to download a base map for use in the field without requiring an Internet connection. However, in some cases, insufficient network coverage can give Oxygis the illusion that the background map can be loaded online, while actual performance causes it to appear incomplete. To remedy this, Oxygis now allows you to force a background to be used offline, even if the mobile device is connected to the Internet.


Transformation of CSV exports into XLSX exports
When opening an export file in csv format in Excel, the spreadsheet tended to overwrite the date or cell numbering formats, thus rendering the document unusable. Oxygis now transfers its exports directly to xslx format so that they can be opened in Excel in a reliable manner.


Deleting a search in one click
When searching in the mobile interfaces, Oxygis now offers its users the possibility of deleting the search in one click rather than having to do so character by character.


Constant improvements
In addition to these new features, the Oxygis teams have worked hard to improve the performance of this latest version of the tool, thus offering greater speed and comfort of use.
The visual aspect is not left out, with the redesign of certain interfaces reinforcing the accessibility and ease of use of the web and mobile tools.
Would you like to know more about the new version of Oxygis, get a demonstration or a contextualisation ? Please contact us !