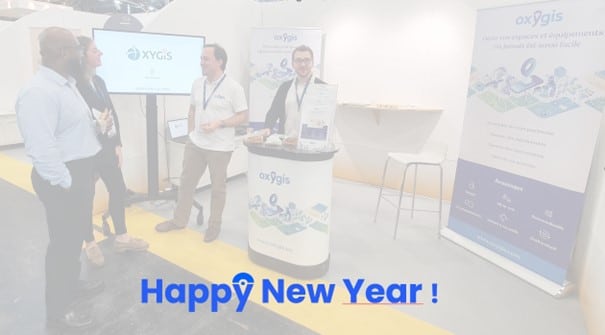 2022 was a great year for Oxygis ….
The growth of Oxygis' user community has accelerated. At the same time, our partnership with Ethias has been consolidated and opens up great prospects for the future.
Oxygis is increasingly becoming a reference mapping software solution for managing your assets and equipment. Oxygis is intuitive, simple and userfriendly, regardless of the level of qualification of your users.
Oxygis is constantly evolving, thanks to the constructive feedback from our users. In addition to a few useful new features, 2022 was mainly dedicated to a complete overhaul of the architecture of our solution. This will allow us to speed up the application, strengthen the security and soon offer the possibility to share data with other users in the community.
… And now we're heading for 2023!
2023 promises to be a record year for Oxygis! The Oxygis community will grow significantly, starting in January, with the integration of more than 20 cities and municipalities in Belgium and the Grand Duchy of Luxembourg. And it's only just the beginning! Numerous discussions are underway with future users who have been won over by the ease of use of Oxygis.
Our development roadmap foresees several major updates to the web version that will allow you, among other things, to manage your equipment inside your buildings or to create equipment layer hierarchies. The mobile version will also see its possibilities greatly extended and a version compatible with both iOS and Android will be released.
As you can see, our motivation remains high and we are working on many new projects.
We look forward to working on these exciting challenges to ensure our users' satisfaction and to continue growing the Oxygis community.
Oxygis wishes you a wonderful New Year. The entire team is looking forward to offering you, in 2023, a solution and a service ever closer to your daily needs!